Ghostbusters PRO
The Ghostbusters pinball experience highlights the humor of the film as the player progresses through the game. The game also includes custom speech by original "Ghostbusters" cast member, Ernie Hudson, who guides the player into becoming the newest member of the Ghostbusters team!
Ghostbusters pinball is designed to be easy to play but difficult to master. It features a moving interactive Slimer toy target and a fresh distinctive layout that integrates traditional pinball devices with unique multifunction two-way ramps featuring a magnetic diverter and scoring switches. In addition, the game features a modern take on a ball transfer target, combative open field drop targets, a ball eject target, a captive ball target and custom molded toys.
The Premium and Limited Edition models also feature an interactive ghost hologram target with animations, "para-normal" magnetic action slingshots, distinctive ramp architecture and additional custom molded toys.
All models feature beautiful and unique hand drawn art by renowned illustrator Jeremy Packer a.k.a. Zombie Yeti.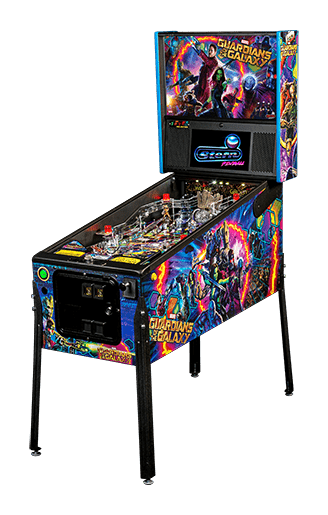 Guardians of the Galaxy Pro
The game will immerse players in a dynamic, challenging, and galactic pinball environment where Star-Lord, Rocket, Gamora, Drax the Destroyer, and Groot battle Ronan to stop him from using the Infinity Stone to destroy the galaxy.
Stern's Guardians of the Galaxy Pro, Premium, and Limited Edition models are packed with features that provide an irresistible gameplay experience. Each game features a sculpted and interactive ball-eating Groot. In addition, a custom sculpted Rocket figure will keep players on their toes as it blasts the ball back at rocket speed. Color-changing inserts highlight the mysterious and interactive Orb, which opens to reveal the powerful Infinity Stone. The Limited Edition and Premium models also feature extra magnets, custom artwork, RGB lighting, and sculpted Groot arms that sprawl across the playfield.
Deadpool PRO
"Deadpool" is known as the "Merc with a Mouth" because of his talkative nature & is notorious for his outrageously funny offbeat humor which is featured throughout the game.
Players will be immersed in the Deadpool universe, teaming up with iconic X-Men characters Wolverine, Dazzler, Domino, and Colossus as they battle against infamous villains Juggernaut, Sabretooth, Mystique, Sauron, and Mr. Sinister. Players will also tag along with Deadpool on his time machine quests as he battles against the T-Rex and the Megalodon.
Stern's Deadpool Pro, Premium, and Limited Edition models feature stunning and distinctive hand-drawn art by renowned illustrator Zombie Yeti. Well known actor Nolan North stars as the eccentric voice of Deadpool. Each game features a 3-bank drop target with a ball lock that's guarding a custom molded Lil' Deadpool bash toy target. In addition, all models include two stainless steel and wireform ramps with a Katana Sword ramp return. Deadpool pinball entertains with an amazing array of ninjas, vampires, and chimichangas, making it suitable for all skill levels.