Star Wars Comic
CHICAGO, IL – October 4, 2019 – Stern Pinball, Inc., a global lifestyle brand based on the iconic and outrageously fun modern American game of pinball, announced today the availability of a new line of pinball machines celebrating the iconic comic artwork from the Star Wars galaxy. Star Wars themed Comic Art pinball machines will be available in Pro and Premium Edition models.
Star Wars themed Comic Art pinball machines feature the artwork of one of today's most popular artists, Randy Martinez. Randy has been illustrating for over 30 years receiving countless accolades of his work. Through a broad spectrum of his skills, Randy has been creating cartoons, caricatures, illustrations, paintings, and 3D art for Lucasfilm since 1999.
Randy's art first appeared in Star Wars Kids Magazine, before he quickly moved on to create cartoons and caricatures for Star Wars Insider. Randy was chosen to create the official key art for Star Wars Celebration IV, Celebration V and Celebration Europe.
"Fans of both pinball and Star Wars will be impressed by this hand-drawn comic artwork. It is stunning and captures everything a true Star Wars fan could ever want in their pinball machine," said Gary Stern, Chairman and CEO of Stern Pinball, Inc.
The Star Wars themed Comic Art Pro and Star Wars Comic Art Premium machines made by Stern are packed with features that provide an irresistible game experience. The game includes select dialogue and footage from the original Star Wars trilogy, color-changing LED-lighted inserts, and a sculpted TIE fighter. All models feature two LCD screens. The Premium model also features art representing an exploding Death Star, a sculpted LED-lit Millennium Falcon and an interactive hyperspace loop that encircles the playfield and can accommodate up to 5 pinballs at once.
Complementing the immersive theme and exciting gameplay experience, Stern Pinball's powerful SPIKE™ electronics hardware system enables high-definition graphics and innovative animations on the video display. SPIKE™ reduces system complexity and energy usage resulting in enhanced reliability and simplified servicing. The state-of-the-art electronic system also powers a high-fidelity 3-channel audio system that is three times more powerful than audio systems of previous generations.
Jurassic Park Pro
Stern lässt die Dinos los! JURASSIC PARK ist das nächste Flippermodell von Stern Pinball, basierend auf dem Roman DinoPark von Michael Crichto. Zum Thema "Jurassic Park" gibt es bereits mehrere Flipper- und Arcadegeräte von SEGA, Data East und Raw Thrills.
Zu Beginn des Spiels wird der Flipperspieler zur Isla Nublar transportiert, einem Vergnügungspark, in dem entflohene Dinosaurier Amok laufen! Die Mission ist es nun, das Parkpersonal zu retten und entlaufende Dinosaurier zu finden. Das Chaos rund um die Dinos im Jurassic Park wurde durch den Computervirus von Dennis Nedrys ausgelöst.
Das Gamedesign vom neuesten Stern Pinball stammt von Keith Elwin, der zuletzt den sehr starken Flipperautomaten Iron Maiden entwickelt hat. Und es gibt tatsächlich Parallelen zwischen den beiden Flippermodellen: Beispielsweise sind beide Flipperautomaten bereits in der Pro-Version gut ausgestattet, haben 3 große Flipperfinger und interessante Rampendesigns.
Jurassic Park Pro, Premium und Limited Edition
Der neueste Flipperautomat Jurassic Park (JP) von Stern Pinball kommt in den gewohnten 3 Versionen als Pro, Premium und Limited Edition (LE) auf den Markt. Vom LE werden weltweit nur 500 Stück produziert. Auf den ersten Blick sind die Spielfelder vom Pro und Premium/LE recht ähnlich, unterscheiden sich jedoch in einigen Details spielerisch etwas. Alle Modelle haben 3 Rampen mit insgesamt 4 Rampeneingängen, 3 Flipper, einen Jungle Explorer Geländewagen mit Newton-Ball und seitlicher Bewegung durch eine Rotation des Fahrzeugs, ein T-Rex Toy, 4 Multibälle von 3 bis 6 Kugeln (T-Rex, Raptor Tri Ball, King of the Island und Chaos) und weitere typische Flipperelemente.
Die JP Modelle Premium und Limited Edition verfügen über einen kugelfressenden und kugelwerfenden T-Rex, der mit dem Ball und dem Spieler interagiert. Beide Varianten verfügen zusätzlich über einen interaktiven Raptor und Raptor-Pen mit einem Kugelschloss Mechanismus (Ball Lock), geschützt durch ein motorisiertes Target. Des Weiteren sind die JP Premium und LE Flipperautomaten mit einem horizontalen Metall-Hubschrauber-Spinner ausgestattet.
Der JP LE hat wie bei den vorherigen, limitierten Stern Pinball mehr Ausstattung als der Pro und Premium. Dazu gehören eine entspiegelte Spielfeldscheibe, Inside Art Blades, Shaker Motor und grün lackierte Lockbar, Siderails und Flipperbeine, sowie weitere LE-typische Details.
Willy Wonka and the Chocolate Factory
Willy Wonka (WW) ist der nächste Flipperautomat von Jersey Jack Pinball (JJP), der als Standard, Limited and Collector`s Edition produziert wird.
Willy Wonka und die Schokoladenfabrik wurde von dem legendären Pat Lawlor, dem Designer von Dialed In!, Twilight Zone, und über einem Dutzend anderer klassischer Spiele entworfen, darunter der meistverkaufte Flipper der Geschichte, The Addams Family. Szenen und Dialoge aus dem Originalfilm von Mel Stuart aus dem Jahr 1971, mit Gene Wilder in der Hauptrolle, erwecken dieses spannende Thema zum Leben.
Alle Modelle von Willy Wonka beinhalten vier Flipper, sechs Kugeln im Spiel, eine gefangene Kugel, sieben Magnete, die Everlasting Gobstopper, die Most Secret Machine, eine Oompa Loompa Kameraskulptur, ein 7 Zoll Wonkavision LCD, einen 27 Zoll großen HD LCD-Bildschirm mit interaktiven 3D-Animationen und LED-Lichtshows. Das Gameplay bietet vier Multibälle, das Wonka Bars sammeln, Scrumdiddlyumptious buchstabieren, Wonka's Factory bereisen und eine Vielzahl anderer Leckerbissen, die den Flipperspieler den Schokoladenfluss hinunter in drei Wizard-Modes führen, darunter Pure Imagination.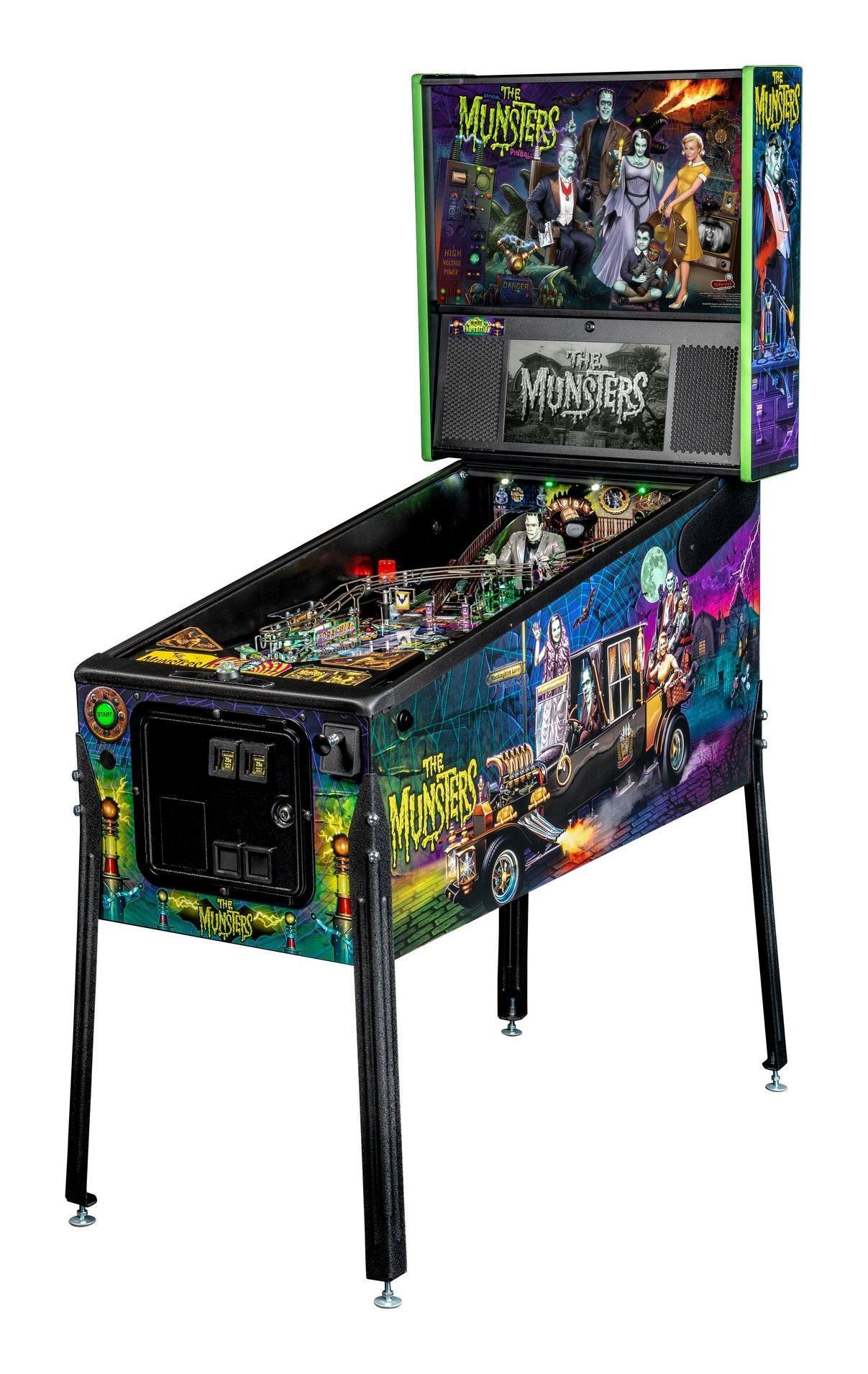 The Munsters PRO
An original pinball experience celebrating the iconic American TV hit sitcom, The Munsters. Players will be transported to 1313 Mockingbird Lane, joining the entire Munsters family on this haunted pinball adventure. Featuring Herman, Raven, Lily, Spot and Grandpa, players will work their way towards Munster Madness in this frightfully funny and action-packed pinball world under glass. The Munsters pinball machines will be available in Pro, Premium, and Limited Edition models.
Stern's The Munsters Pro, Premium, and Limited Edition models feature stunning and distinctive hand-drawn art. Each game features a custom sculpted Herman bash toy with magnetized ball catch, highlighting Herman multiball. In addition, all models include a pop-up Spot bash toy hidden under the left ramp, a custom sculpted Drag-U-La toy car featured near a left shooter lane kicker, as well as a metal turn-around, flip-up ramp.
Black Knight PRO
For the first time ever, players will explore, discover, and unlock the secrets of the Black Knight universe. Navigating through these dark, mysterious, and twisted realms, players will uncover foes, demons, riches, and secrets in their quest against the Black Knight. Black Knight: Sword of Rage pinball machines will be available in Pro, Premium, and Limited Edition models.
"There's nothing more iconic in the pinball universe than the Black Knight character," said Gary Stern, Chairman and CEO of Stern Pinball, Inc. "Created by game designer Steve "The King" Ritchie, the Black Knight has always taunted and antagonized players to battle him and now, for the first time, players will be able to fight back."
Stern's Black Knight: Sword of Rage Pro, Premium, and Limited Edition models feature stunning and distinctive hand-drawn art in homage to this pinball icon. Each game features a custom sculpted, interactive, and multi-functional Black Knight bash toy. This interactive Black Knight toy features a bi-directional motorized flail, a glowing RGB helmet with individually controllable expressive lighting to interact and taunt players with custom speech, and a sliding coil-driven shield that will bash and block your shots.
All models include the distinct "Magna-Save", a player-controlled magnet used to prevent a ball from draining, and timed resetting drop targets. In addition, Black Knight: Sword of Rage features a legacy sound package composed and performed by Scott Ian of Anthrax with Brendon Small, adrenalizing the audio experience for players on their journey, and custom speech by Ed Robertson of Barenaked Ladies.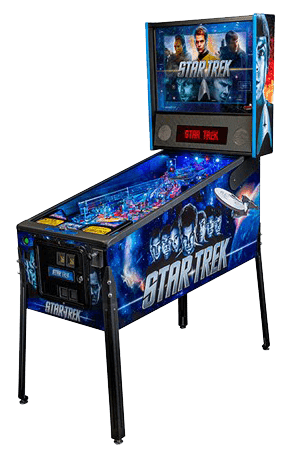 Star Trek PRO
Inspiriert von den "Star Trek" und "Star Trek Into Darkness" Filmen, lässt der neueste Stern-Automat die Spieler in Captain James Kirk's Sitz der U.S.S. Enterprise Platz nehmen und eine Reise antreten, auf der die Planeten der Föderation beschützt und verteidigt werden müssen.
Stern's Star Trek Flipper bietet dem Star Trek Fan die Sound-Kulisse, die er vom Film her kennt und sich wünscht. Das Star Trek Spiel möchte mit Adrenalin gefüllten Schlachten, High-Definition-Grafik, kosmischer LED Beleuchtung und klassischer Musikuntermalung das Gefühl hervorrufen, der Spieler würde mit Warp-Geschwindigkeit durch den Weltraum fliegen, auf der Mission Spock zu retten und die Niederlage der U.S.S. Vengeance zu erzwingen. Das neueste Spiel von Stern beinhaltet ein animiertes Schlachtschiff, drei blitzschnelle Rampen, drei Flipperarme, rückstellbare Memory Drop Targets und vieles mehr.
Star Trek ist das erste Voll-LED Pro-Modell von Stern. Das Spielfeld ist ausgerüstet mit sieben mehrfarbigen LED-Pfaden, welche den Spieler auf leicht verständlichen, farbcodierten Routen führen. Dieser Automat bietet dem Gelegenheits-Spieler sechs Missionen und wird vervollständigt durch 18 komplexere "Wege", damit der enthusiastische Spieler tiefer in das Spiel eintauchen kann. Während der Spieler eine entgegenkommende Bedrohung mit drei Action geladenen Flippern angreift, fesselt das Voll-LED Spielfeld den Zuschauer und steigert das Spielvergnügen mit Features wie Phaserblitze und Photonentorpedos.
Spieler wissen instinktiv genau, was zu tun ist, wenn sie sich dem Star Trek Flipper nähern – das Zerstören der U.S.S. Vengeance, ein Aktion geladenes Schlüssel-Feature auf dem Spielfeld. Die Spieler bekommen von Anfang an die Möglichkeit, besondere Chancen zu offenbaren, verlockende Bonus-Features zu sammeln und eine Reihe von Auszeichnungen – The Captain´s Chair genannt – zu gewinnen. Star Trek Fans können hier sowohl den klassischen Kampf zwischen dem horoischen Enterprise Team und dem schurkischen Khan erwarten als auch Zusammentreffen mit Nero, Klingonen und der Narada.
Ghostbusters PRO
The Ghostbusters pinball experience highlights the humor of the film as the player progresses through the game. The game also includes custom speech by original "Ghostbusters" cast member, Ernie Hudson, who guides the player into becoming the newest member of the Ghostbusters team!
Ghostbusters pinball is designed to be easy to play but difficult to master. It features a moving interactive Slimer toy target and a fresh distinctive layout that integrates traditional pinball devices with unique multifunction two-way ramps featuring a magnetic diverter and scoring switches. In addition, the game features a modern take on a ball transfer target, combative open field drop targets, a ball eject target, a captive ball target and custom molded toys.
The Premium and Limited Edition models also feature an interactive ghost hologram target with animations, "para-normal" magnetic action slingshots, distinctive ramp architecture and additional custom molded toys.
All models feature beautiful and unique hand drawn art by renowned illustrator Jeremy Packer a.k.a. Zombie Yeti.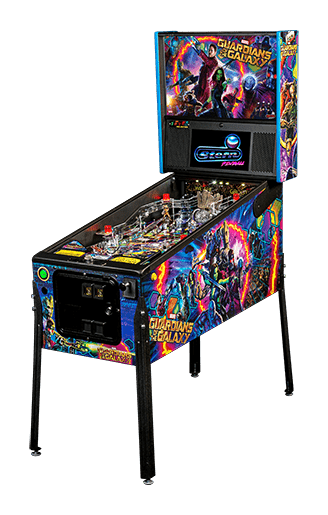 Guardians of the Galaxy Pro
The game will immerse players in a dynamic, challenging, and galactic pinball environment where Star-Lord, Rocket, Gamora, Drax the Destroyer, and Groot battle Ronan to stop him from using the Infinity Stone to destroy the galaxy.
Stern's Guardians of the Galaxy Pro, Premium, and Limited Edition models are packed with features that provide an irresistible gameplay experience. Each game features a sculpted and interactive ball-eating Groot. In addition, a custom sculpted Rocket figure will keep players on their toes as it blasts the ball back at rocket speed. Color-changing inserts highlight the mysterious and interactive Orb, which opens to reveal the powerful Infinity Stone. The Limited Edition and Premium models also feature extra magnets, custom artwork, RGB lighting, and sculpted Groot arms that sprawl across the playfield.
Deadpool PRO
"Deadpool" is known as the "Merc with a Mouth" because of his talkative nature & is notorious for his outrageously funny offbeat humor which is featured throughout the game.
Players will be immersed in the Deadpool universe, teaming up with iconic X-Men characters Wolverine, Dazzler, Domino, and Colossus as they battle against infamous villains Juggernaut, Sabretooth, Mystique, Sauron, and Mr. Sinister. Players will also tag along with Deadpool on his time machine quests as he battles against the T-Rex and the Megalodon.
Stern's Deadpool Pro, Premium, and Limited Edition models feature stunning and distinctive hand-drawn art by renowned illustrator Zombie Yeti. Well known actor Nolan North stars as the eccentric voice of Deadpool. Each game features a 3-bank drop target with a ball lock that's guarding a custom molded Lil' Deadpool bash toy target. In addition, all models include two stainless steel and wireform ramps with a Katana Sword ramp return. Deadpool pinball entertains with an amazing array of ninjas, vampires, and chimichangas, making it suitable for all skill levels.