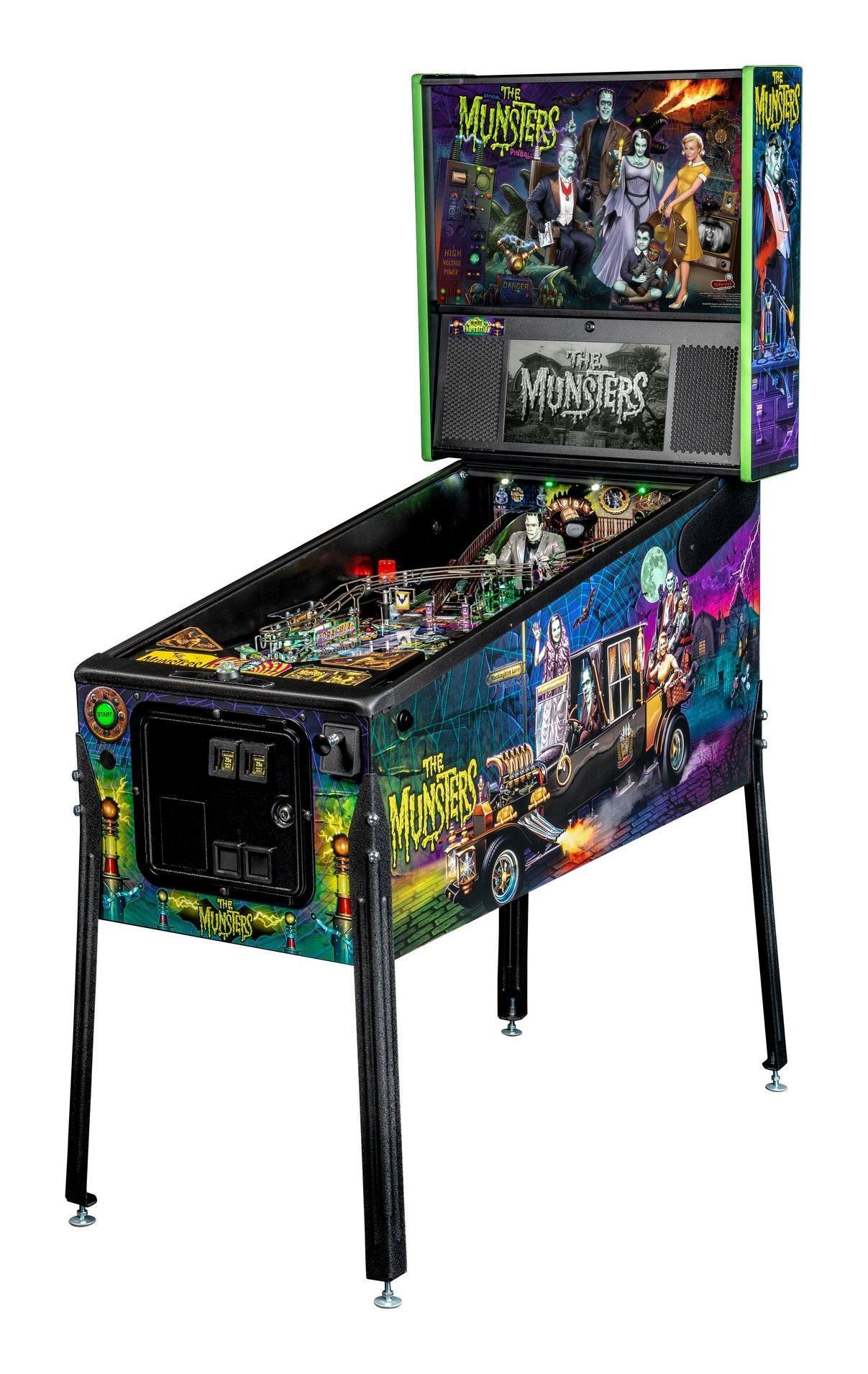 The Munsters PRO
An original pinball experience celebrating the iconic American TV hit sitcom, The Munsters. Players will be transported to 1313 Mockingbird Lane, joining the entire Munsters family on this haunted pinball adventure. Featuring Herman, Raven, Lily, Spot and Grandpa, players will work their way towards Munster Madness in this frightfully funny and action-packed pinball world under glass. The Munsters pinball machines will be available in Pro, Premium, and Limited Edition models.
Stern's The Munsters Pro, Premium, and Limited Edition models feature stunning and distinctive hand-drawn art. Each game features a custom sculpted Herman bash toy with magnetized ball catch, highlighting Herman multiball. In addition, all models include a pop-up Spot bash toy hidden under the left ramp, a custom sculpted Drag-U-La toy car featured near a left shooter lane kicker, as well as a metal turn-around, flip-up ramp.
Black Knight PRO
For the first time ever, players will explore, discover, and unlock the secrets of the Black Knight universe. Navigating through these dark, mysterious, and twisted realms, players will uncover foes, demons, riches, and secrets in their quest against the Black Knight. Black Knight: Sword of Rage pinball machines will be available in Pro, Premium, and Limited Edition models.
"There's nothing more iconic in the pinball universe than the Black Knight character," said Gary Stern, Chairman and CEO of Stern Pinball, Inc. "Created by game designer Steve "The King" Ritchie, the Black Knight has always taunted and antagonized players to battle him and now, for the first time, players will be able to fight back."
Stern's Black Knight: Sword of Rage Pro, Premium, and Limited Edition models feature stunning and distinctive hand-drawn art in homage to this pinball icon. Each game features a custom sculpted, interactive, and multi-functional Black Knight bash toy. This interactive Black Knight toy features a bi-directional motorized flail, a glowing RGB helmet with individually controllable expressive lighting to interact and taunt players with custom speech, and a sliding coil-driven shield that will bash and block your shots.
All models include the distinct "Magna-Save", a player-controlled magnet used to prevent a ball from draining, and timed resetting drop targets. In addition, Black Knight: Sword of Rage features a legacy sound package composed and performed by Scott Ian of Anthrax with Brendon Small, adrenalizing the audio experience for players on their journey, and custom speech by Ed Robertson of Barenaked Ladies.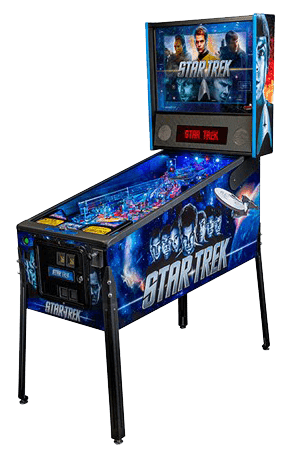 Star Trek PRO
Inspiriert von den "Star Trek" und "Star Trek Into Darkness" Filmen, lässt der neueste Stern-Automat die Spieler in Captain James Kirk's Sitz der U.S.S. Enterprise Platz nehmen und eine Reise antreten, auf der die Planeten der Föderation beschützt und verteidigt werden müssen.
Stern's Star Trek Flipper bietet dem Star Trek Fan die Sound-Kulisse, die er vom Film her kennt und sich wünscht. Das Star Trek Spiel möchte mit Adrenalin gefüllten Schlachten, High-Definition-Grafik, kosmischer LED Beleuchtung und klassischer Musikuntermalung das Gefühl hervorrufen, der Spieler würde mit Warp-Geschwindigkeit durch den Weltraum fliegen, auf der Mission Spock zu retten und die Niederlage der U.S.S. Vengeance zu erzwingen. Das neueste Spiel von Stern beinhaltet ein animiertes Schlachtschiff, drei blitzschnelle Rampen, drei Flipperarme, rückstellbare Memory Drop Targets und vieles mehr.
Star Trek ist das erste Voll-LED Pro-Modell von Stern. Das Spielfeld ist ausgerüstet mit sieben mehrfarbigen LED-Pfaden, welche den Spieler auf leicht verständlichen, farbcodierten Routen führen. Dieser Automat bietet dem Gelegenheits-Spieler sechs Missionen und wird vervollständigt durch 18 komplexere "Wege", damit der enthusiastische Spieler tiefer in das Spiel eintauchen kann. Während der Spieler eine entgegenkommende Bedrohung mit drei Action geladenen Flippern angreift, fesselt das Voll-LED Spielfeld den Zuschauer und steigert das Spielvergnügen mit Features wie Phaserblitze und Photonentorpedos.
Spieler wissen instinktiv genau, was zu tun ist, wenn sie sich dem Star Trek Flipper nähern – das Zerstören der U.S.S. Vengeance, ein Aktion geladenes Schlüssel-Feature auf dem Spielfeld. Die Spieler bekommen von Anfang an die Möglichkeit, besondere Chancen zu offenbaren, verlockende Bonus-Features zu sammeln und eine Reihe von Auszeichnungen – The Captain´s Chair genannt – zu gewinnen. Star Trek Fans können hier sowohl den klassischen Kampf zwischen dem horoischen Enterprise Team und dem schurkischen Khan erwarten als auch Zusammentreffen mit Nero, Klingonen und der Narada.
Ghostbusters PRO
The Ghostbusters pinball experience highlights the humor of the film as the player progresses through the game. The game also includes custom speech by original "Ghostbusters" cast member, Ernie Hudson, who guides the player into becoming the newest member of the Ghostbusters team!
Ghostbusters pinball is designed to be easy to play but difficult to master. It features a moving interactive Slimer toy target and a fresh distinctive layout that integrates traditional pinball devices with unique multifunction two-way ramps featuring a magnetic diverter and scoring switches. In addition, the game features a modern take on a ball transfer target, combative open field drop targets, a ball eject target, a captive ball target and custom molded toys.
The Premium and Limited Edition models also feature an interactive ghost hologram target with animations, "para-normal" magnetic action slingshots, distinctive ramp architecture and additional custom molded toys.
All models feature beautiful and unique hand drawn art by renowned illustrator Jeremy Packer a.k.a. Zombie Yeti.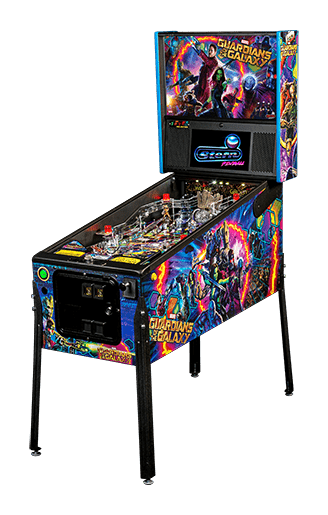 Guardians of the Galaxy Pro
The game will immerse players in a dynamic, challenging, and galactic pinball environment where Star-Lord, Rocket, Gamora, Drax the Destroyer, and Groot battle Ronan to stop him from using the Infinity Stone to destroy the galaxy.
Stern's Guardians of the Galaxy Pro, Premium, and Limited Edition models are packed with features that provide an irresistible gameplay experience. Each game features a sculpted and interactive ball-eating Groot. In addition, a custom sculpted Rocket figure will keep players on their toes as it blasts the ball back at rocket speed. Color-changing inserts highlight the mysterious and interactive Orb, which opens to reveal the powerful Infinity Stone. The Limited Edition and Premium models also feature extra magnets, custom artwork, RGB lighting, and sculpted Groot arms that sprawl across the playfield.
Deadpool PRO
"Deadpool" is known as the "Merc with a Mouth" because of his talkative nature & is notorious for his outrageously funny offbeat humor which is featured throughout the game.
Players will be immersed in the Deadpool universe, teaming up with iconic X-Men characters Wolverine, Dazzler, Domino, and Colossus as they battle against infamous villains Juggernaut, Sabretooth, Mystique, Sauron, and Mr. Sinister. Players will also tag along with Deadpool on his time machine quests as he battles against the T-Rex and the Megalodon.
Stern's Deadpool Pro, Premium, and Limited Edition models feature stunning and distinctive hand-drawn art by renowned illustrator Zombie Yeti. Well known actor Nolan North stars as the eccentric voice of Deadpool. Each game features a 3-bank drop target with a ball lock that's guarding a custom molded Lil' Deadpool bash toy target. In addition, all models include two stainless steel and wireform ramps with a Katana Sword ramp return. Deadpool pinball entertains with an amazing array of ninjas, vampires, and chimichangas, making it suitable for all skill levels.