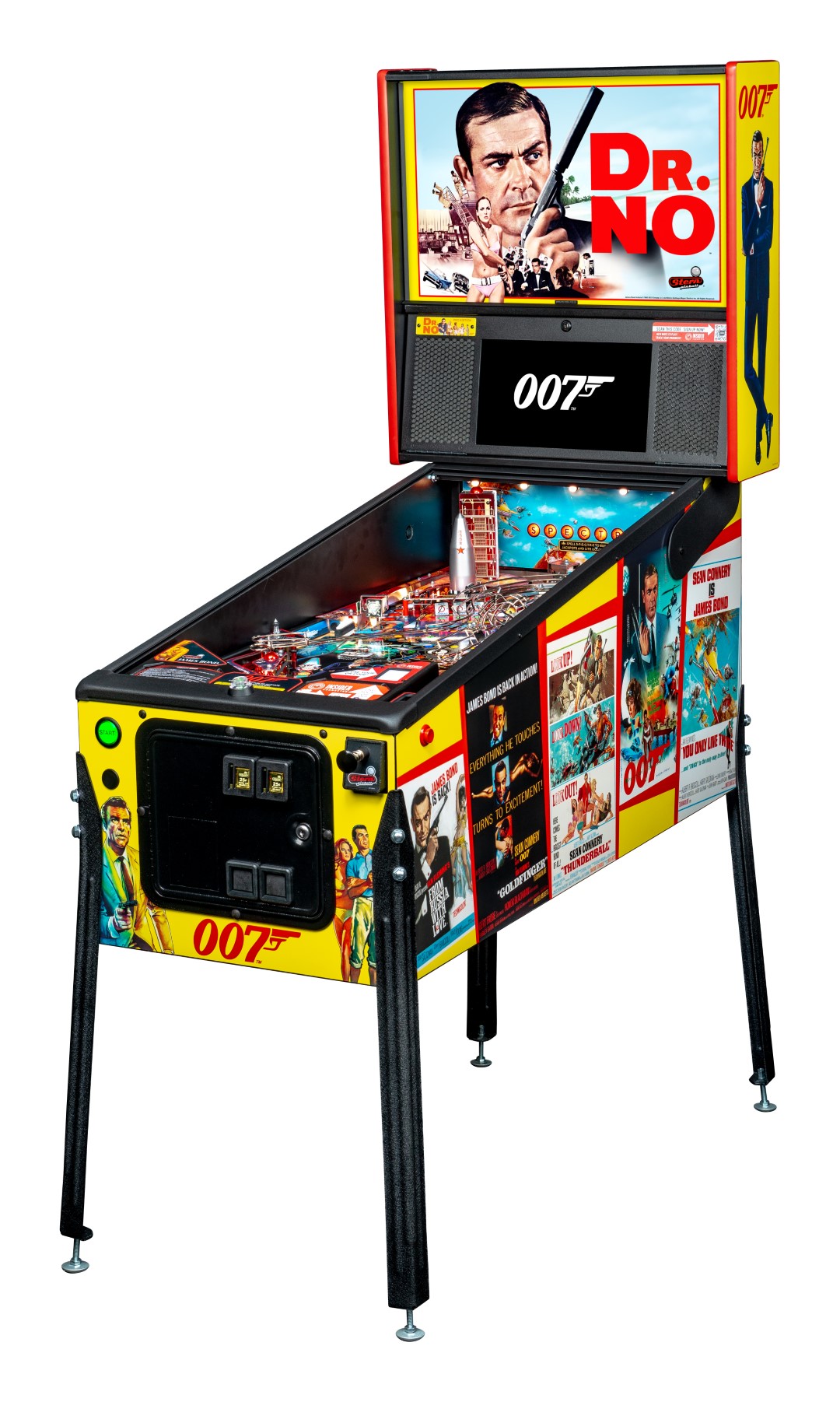 James Bond
In Dr. No (1962) Sean Connery propelled 007 into the cultural zeitgeist, bringing the legendary literary figure to life through adrenalized action sequences, ground-breaking gadgets and effects, memorable characters, and timeless villains.
Stern's James Bond 007 cornerstone pinball machine will highlight film footage and iconic music from the films that built the 007 legend: Dr. No, From Russia With Love (1963), Goldfinger (1964), Thunderball (1965), You Only Live Twice (1967), and Diamonds Are Forever (1971). Players are immersed into the world of espionage in this action-packed pinball experience, tackling assignments, teaming up with key allies, and stopping SPECTRE's villainous schemes.
Gather gadgets from Q Branch as pinballs get ejected through the roof of a custom sculpted Aston Martin DB5. Break through the Osato Chemicals drop targets to battle SPECTRE at the Bird One rocket base.
James Bond 007 pinball machines include Stern's award-winning Insider Connected™ system, which enables players to interact with the game and a global network of players in a variety of ways. Through Insider Connected, players can track progress, earn new game-specific achievements, engage with the player community, and participate in promotions and Challenge Quests. Insider Connected also provides an operator-focused toolset to drive location play through Location Leaderboards, build player loyalty, analyze performance, make adjustments remotely, and maintain the machines.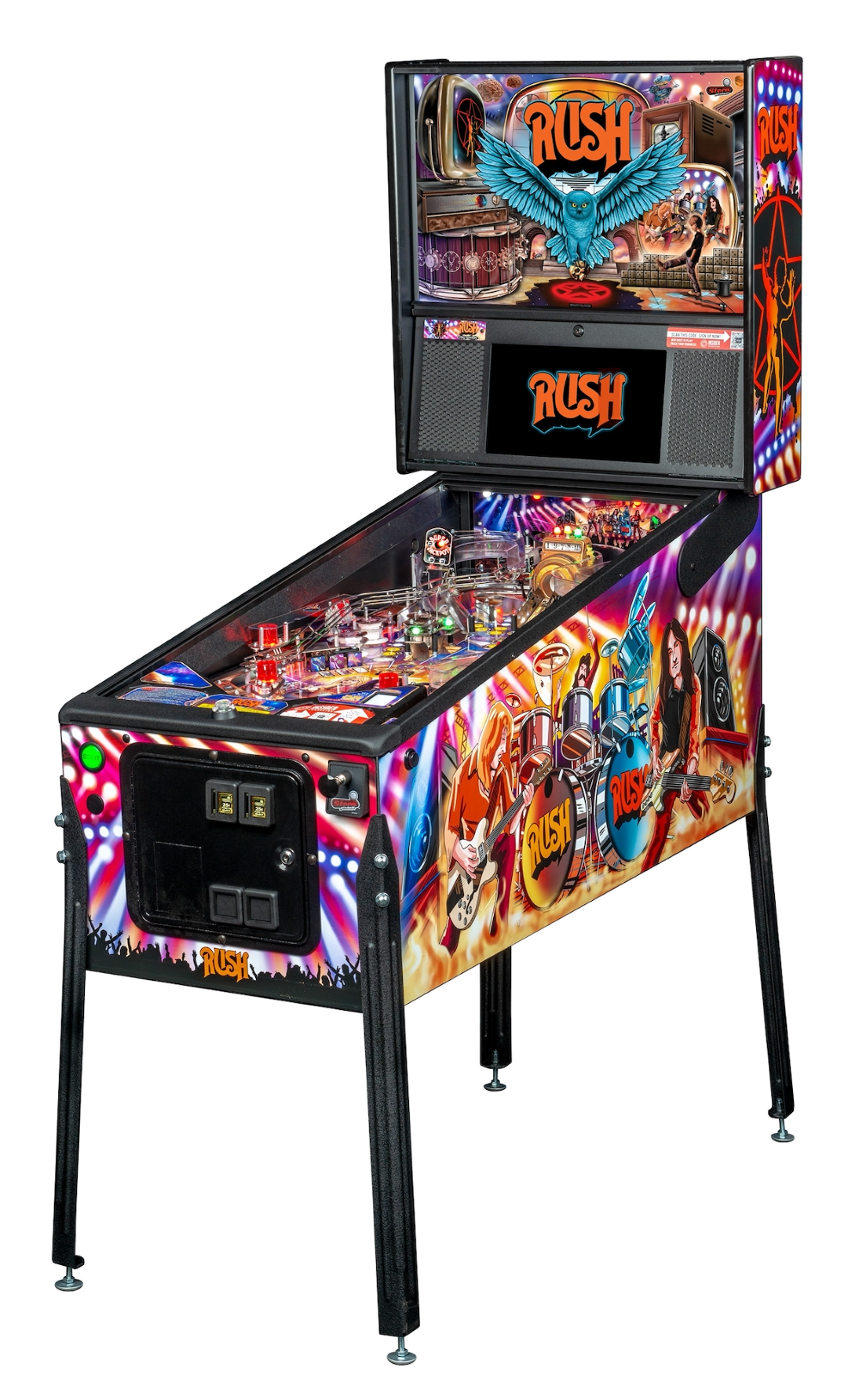 ---
[/cs_column]
Rush
Stern's Rush pinball machines, reflect the energy, excitement, and experience of a live Rush concert. In this epic music pinball adventure, players will travel with Rush through time. Immersed in exclusive Rush concert footage and guided by custom speech from Alex Lifeson, Geddy Lee, and fellow Canadian Rock Hall of Famer, Ed Robertson of the Barenaked Ladies, players will experience Rush and their iconic music as never before. This Rush pinball concert under glass features sixteen iconic songs, accentuated by sound and lighting effects. Songs include Headlong Flight, Far Cry, One Little Victory, Working Man, 2112, Tom Sawyer, The Spirit of Radio, Freewill, Cygnus X-1 (Book One: The Voyage and Book Two: Hemispheres), The Big Money, Subdivisions, Limelight, Fly By Night, La Villa Strangiato, Bastille Day, and Red Barchetta.
Rush pinball machines include Stern's new Insider Connected™ system, which enables players to interact with the game and a global network of players in a variety of ways. Stern Insider Connected provides dynamic entertainment and player engagement features. Insider Connected also provides an operator focused toolset to drive location play and remotely manage every aspect of the machines. Registration for Insider Connected is available at insider.sternpinball.com/.
Travel back in time with Rush by shooting pinballs through a custom sculpted, electromagnetic Time Machine. Players will explore Red Barchetta, Subdivisions, and Fly By Night Multiball action. The Rush Premium and LE model pinball experience includes a motorized ramp with custom lighting effects and a custom sculpted Clockwork Angels Clock, inspired from Neil Peart's bass drum from their Time Machine Tour. This motorized clock illuminates, and when it strikes midnight players will be transported to a Headlong Flight Multiball frenzy.
Additional features on the Premium and LE models include a custom subway system, locking pinballs to unleash a high energy Far Cry Multiball. The 'Dead End' vertical upkicker propels pinballs up an additional wireform ramp return for non-stop pinball action. As an encore, a three-bank of musical drop targets guard a secret ball lock for players to discover an adrenalized Freewill Multiball to continue their musical pinball journey.
---
[/cs_row][/cs_section][/cs_column][/cs_row][/cs_section]
Godzilla Pro
In this monster-packed pinball adventure, players become Godzilla! The evil aliens, the Xiliens, use mind control rays to take control of the monsters King Ghidorah, Gigan, Megalon, Ebirah, and Titanosaurus. The Xiliens are demanding all of Earth's resources. Godzilla and its allies, Mothra, Rodan, and Anguirus, battle the Xilien invasion with the goal of conquering Mechagodzilla to become King of the Monsters!
Chaos and destruction ensue on the playfield with Godzilla multiball, started by shooting one of the various shots in and through the centrally located skyscraper. In the Premium and LE models, a motor actuates the skyscraper, diverting balls through each of its five stories as it collapses, ultimately locking three balls on its roof. The Premium/LE playfield also features a collapsing bridge ramp. This animated breakaway ramp is guarded by a custom molded Godzilla and can divert pinballs back to the flipper or directly onto the playfield during Bridge Attack multiball.
On the Premium and LE models, Mechagodzilla features a motorized three-bank target set which rotates to reveal a spinner and jump ramp. Players will engage the Kaiju in battle by launching pinballs with the jump ramp and bashing the magnetic ball catch on its chest to start Mechagodzilla multiball.
All models of Godzilla pinball machines feature an innovative "Magna Grab" magnetic newton ball, capable of catching pinballs from five different shot paths, including off the plunge. This device can also divert pinballs to set up shots from the upper left flipper. The game also includes the iconic title song "Godzilla" by Blue Oyster Cult, stunning hand-drawn artwork by Zombie Yeti, intricate wireform ramps, three spinning targets (Heat Ray, Mechagodzilla, and Monster Rampage), three flippers, three "powerline" themed stand-up targets and a UFO pop pumper. The game highlights video and audio from ten* Toho Showa Era Godzilla films to create a one-of-a-kind immersive Godzilla pinball experience.
Godzilla pinball machines also debut Stern's Insider Connected system, which includes a QR code reader on the bottom arch that enables players to interact with the game and this new network in a variety of ways. Stern Insider Connected provides new entertainment and player engagement features and an operator focused tool set to drive location play and remotely manage every aspect of the machines. Insider Connected goes live with the launch of Godzilla, with the full scope of features scheduled for roll out over the next year.
Only 1,000 LE machines will be available. The LE version includes an exclusive full color mirrored backglass inspired by Mechagodzilla, iconic custom cabinet artwork, custom high gloss metallic silver powder-coated pinball armor, a custom designer autographed bottom arch, exclusive inside art blades, upgraded audio system, anti-reflection pinball playfield glass, shaker motor, a sequentially numbered plaque, and a Certificate of Authenticity.
"Partnering with Toho, we have brought the Godzilla universe to pinball" said Gary Stern, Chairman and CEO of Stern Pinball, Inc. "Insider Connected enables players, owners, and operators to interact with their machines like never before."
Led Zeppelin Pro
Formed in London in 1968, Led Zeppelin consisted of vocalist Robert Plant, guitarist Jimmy Page, bassist and keyboardist John Paul Jones, and drummer John Bonham. Together they
became one of the best-selling bands with estimated record sales of 300 million units worldwide. In 1995 Led Zeppelinwas inducted into the Rock and Roll Hall of Fame for their innovative and influential impact on the entire music industry.
In this high energy rock and roll pinball concert experience, pinball and music are fused together. Players are transported back to Led Zeppelin's early days and tour the world from 1968-1980. As if players were members of the band playing its music, their play updates game features at the start of each verse and chorus of ten iconic Led Zeppelin songs:
Good Times Bad Times
Whole Lotta Love
The Song Remains the Same
Rock and Roll
Trampled Under Foot
Ramble On
Kashmir
Immigrant Song
Black Dog
Communication Breakdown
"There is nothing more energizing and fun than bringing pinball and music together," said Gary Stern, Chairman and CEO of Stern Pinball, Inc. "Partnering with Led Zeppelin, we created a one-of-a-kind pinball experience. It's our dream goal to create a pinball machine with this iconic rock band."
The Pro, Premium, and Limited Edition models all feature a custom-molded Hindenburg Zeppelin toy, based on the iconic imagery from the Led Zeppelin I album. When lit, the Zeppelin toy scores speed locks on the player's musical journey to Zeppelin multiball. A custom Swan Song Records trademark Icarus sculpted leaper toy takes flight when smashed by the chaotic pinball. A 3-bank of drop targets, 3 custom steel ramps, and 3 flippers keep the pinball action rolling.
The Premium and Limited Edition models feature an innovative interactive Electric Magic™ toy. This device is a unique motorized toy which rises from below the playfield to create different magical pinball experiences. An optical spinner charges the Electric Magic magnet, capturing and making balls disappear. The Electric Magic device also converts into a physical pinball bash toy capable of locking a ball or launching a ball aroundthe playfield.
In true rock concert fashion, the Expression Lighting System™ with 96 intelligent RGB LED's enables full color spectrum control. Positioned in pockets cut into the cabinet sides to provide color themed full playfield illumination, this integrated playfield lighting system is synchronized to custom light shows specifically designed for every song and dynamically responsive to game events.
As an encore, these models have an additional reversing scoop and metal combo ramp, allowing players to keep the hits coming with constant adrenalized pinball action. A back panel mounted illuminated song status board indicates which Led Zeppelin song is in play.
Only 500 Limited Edition games will be made for sale throughout the world. This limited version includes an exclusive Icarus themed full color mirrored backglass, exclusive custom themed cabinet artwork, custom high gloss Paradise Shimmer Blue powder-coated armor, a custom autographed bottom arch, exclusive custom art blades, upgraded audio system, anti-reflection pinball glass, a shaker motor, and a sequentially numbered plaque.